An Interview with
'Maxxxwell Carlisle'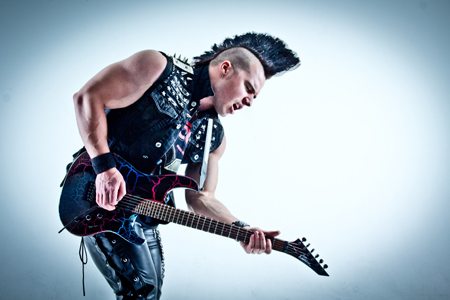 Guitarist of Hellion
that took place in early October, 2014
Interviewed by Glenn Milligan.
Glenn: What was the music scene like in your area at the time while growing up in Woodinville, Washington?
Maxxxwell: It was a small town but it had some fun bands and certainly some good musicians. Not exactly a metal epicenter but there where enough bands around that there were regular shows and people always showed up and had a good time. Weird venues though... I remember playing at an ice arena and there was no stage so we had to setup right on the ice. The drums kept sliding everywhere. Totally nuts. There was also another band around called "Chinese Tea Bag Attack"... memorable name.
Glenn: What got you interested in music originally and how come you began by playing violin?
Maxxxwell: I always enjoyed music as a kid. My Dad played guitar, although it was more folk type music and he always had a radio on in the house playing classic rock of some kind. My parents encouraged me to play an instrument when I was young. Of course, they had me start on violin because that's what kids could play in school. I started at 8. I think they figured it would keep me out of trouble! If only they had known I would end up as a metalhead!
Glenn: What originally turned you onto Shred guitar so much as opposed to other guitar styles?
Maxxxwell: Shred guitar or any kind of virtuoso type playing has always appealed to me. I love to see people who are masters of their craft. I don't care so much about what they are doing, but I want them to be good at it. I've never enjoyed musicians like Kurt Cobain, who even though he had a huge influence on people, he was never really a good musician from any kind of technical standpoint. So for me, becoming a shred guitarist was just me following what I thought was the best path. I honestly love it. It takes a huge amount of time to develop those skills on the guitar but I wouldn't have it any other way.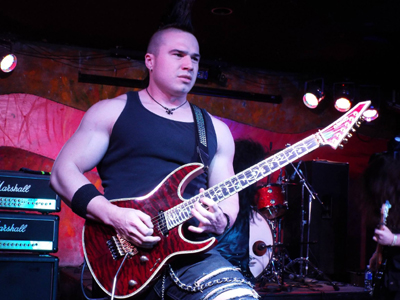 Glenn: Tell us about the early bands you were part of and what you learnt from them to set you in good stead for the big league.
Maxxxwell: I think the biggest thing I learned from my early band experiences was just how to get along with other creatively minded people. Forming and keeping a functioning band together is almost completely about managing the personalities of the band members. Everyone has different influences and ideas and different approaches to getting things done. It's easy to get too attached to your ideas and then you get defensive when someone else wants to change something. I remember a writing session I had with one of the first bands I worked with after moving to Los Angeles. I showed up with some song ideas ready to go and the bassist sat down and explained to me his idea of building a medieval catapult that we would use on stage to launch chunks of raw meat into the audience. And he was completely serious. It took a little convincing but I eventually got him to put that idea on the backburner while we worked on actually writing songs. So yeah.... working with other people. That's probably the best thing that I got from working with those early bands.
Glenn: What was Los Angeles like back in 2007 and how would you say it has changed over the years and for what reasons?
Maxxxwell: Some things have definitely changed since I moved to Los Angeles in 2007... a few of the major venues have closed on the Strip, which is a shame. The record industry is a lot worse off. Back then people were still willing to pay for music. There was even still a decent market for CDs. Some of the trends have changed a little. I think there are more indie-rock type bands now. That's a bad thing. One big change is how social media has become so important. It was there in 2007, but now it's like you can't even say you have a band without a Facebook page or Twitter account. Personally, I still love to read the old-school metal mags. I wish I could have seen Los Angeles 20 or 25 years ago.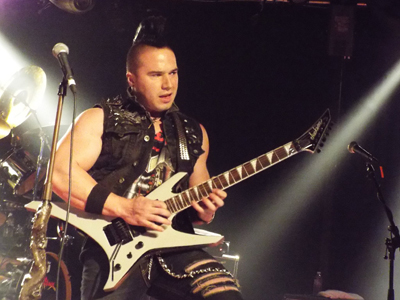 Glenn: What was it like for you working with Michael Angelo Batio on his album 'Hands Without Shadows II – Voices' and how did you originally meet?
Maxxxwell: Michael and I originally met when I attended one of his clinics. I talked to him about the "Forum Shreddathon" project which was an instrumental song involving members of his Internet forum. He was very interested in the project and we kept in contact as the project progressed. That was our original introduction and since then he made a guest appearance on my 2010 instrumental CD, "Speed Force" and I worked with him on the completion of the Shreddathon track and then again on the song "Overload" on his latest album, Intermezzo. I also did a guest appearance at one of his guitar clinics, earlier this year. Working with Michael has always been great. He's one of the most professional and focused musicians I've ever met. He sets a great example for other guitarists to follow. And the dude can shred like no one else.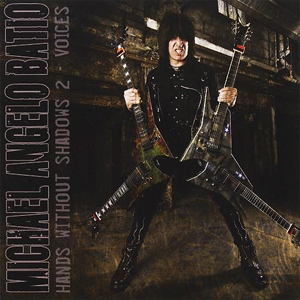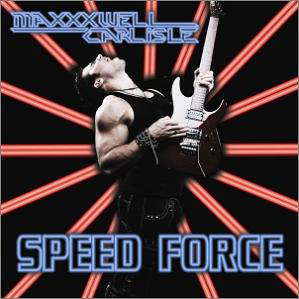 Glenn: Tell us all about your time in Deathriders with Neil Turbin (Original Anthrax Vocalist).
Maxxxwell: Deathriders was an amazing experience. That band has had about 100 or so changes in the lineup since it was first formed in the early 2000s. Like a lot of people, I was only in the band for a short time, but it was definitely memorable! "Death From Above" from the first Anthrax album is one of my favorite songs, so you can imagine how cool it was to be up on stage performing that song with the original singer. The original Deathriders material we played was great too. Some people feel that Neil can be difficult to work with. One issue seems to be that he has been working on a new Deathriders album...for about 6 or 7 years. There are some really great songs on the album but he always seems to have something that's stopping him from getting everything 100% finished. I think over time a lot of the promoters and industry people and even the players in his band have lost confidence that anything will ever get released. It's really a shame because Neil still has a following and it would be great for the fans to finally hear those songs. Maybe someday.
Glenn: You worked with Tina Guo and released the single "Duet for Electric Guitar and Electric Cello in A minor" – how did this come into fruition?
Maxxxwell: Tina is a world class musician and I feel totally privileged to have worked with her. I originally met her at a CD release party for her first instrumental CD. At that time I had started working on songs for what would later become my "Speed Force" instrumental CD. I thought it would be great to have some "non-metal" instruments on it and Tina's cello playing seemed like a great fit. When we got together in the studio to record her parts, she was totally professional and amazingly skilled. She sight-read some sheet music that I had prepared for her and then improvised her solo. In the end it came out great and really added to the album. It was great to be able to use some of my classical background on that project. It's pretty rare that you write out sheet music for someone in the metal world. After that project I ended up appearing in one of Tina's music videos as a sort of leather fetish slave, pretty standard in Los Angeles, which was just as much fun.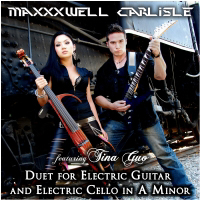 Glenn: To date, you have released several instrumental albums – which instrumental pieces mean the most to you and for what reasons?
Maxxxwell: It's always hard to choose a favorite... I can think of a few though and that would be "Axis Accelerator" which featured Michael Angelo Batio. It's a great, long, epic track. I also really like "The Last Ocean of Titan", which has a harmonized acoustic intro and then breaks into a sort of power-ballad feel. I'm slowly working on some new ideas for instrumental songs. It's not progressing very quickly simply because I have so many other projects taking up my time. I've got one song called "Herman Li fixed my computer" which I might include on some future release.
Glenn: What led to you becoming a member of Hellion and what went through your mind at the time and why?
Maxxxwell: In late 2012, and early 2013, Ann Boleyn was working on getting Hellion up and running again. I think she had originally tried to get some of the original members back in the band, but for various reasons they weren't available. Word got around that she was looking for a new guitarist to work with and a mutual friend of ours, Dave Reffett, referred me to her. It was actually several months before she and I started talking but once we got together and went over what she wanted to do with the band, what kind of sound, etc., the process moved forward really naturally. After that I met Simon Wright, and then the rest of the band formed from there. I think that all around it's been a great fit for me and vice versa. I had previous experience working with female vocalists and the style of writing that is appropriate for Hellion is right up my alley. It's been a great experience.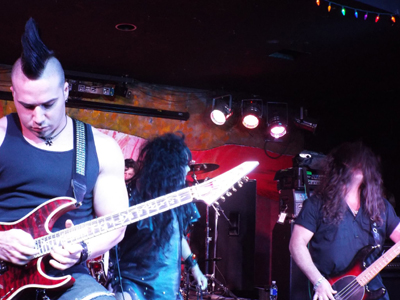 Glenn: How were the first rehearsals with Hellion and have been the most memorable occasions so far in the studio also while recording and why?
Maxxxwell: All of the Hellion rehearsals have been great, and the time we spent in the studio recording the songs for the new EP was a total blast. Working with producer Ken Scott was one of my favorite parts of the whole process. He had a ton of great stories about working with the Beatles and all these other great artists. The whole time he's talking in his british accent with his feet up on the table and sipping tea. It was a great vibe in the studio.
Glenn: What are you most looking forward to on Hellion's 'Karmas A Bitch' US Tour which starts at the Whisky A Go-Go on October 2nd and why?
Maxxxwell: I'm looking forward to all of the shows in one way or another but in particular the show in Seattle will be great. It'll be sort of a homecoming for me as I grew up there and started working with my first band there. Now I'm coming back on a national tour. It's a great feeling. I just hope it doesn't rain. It probably will.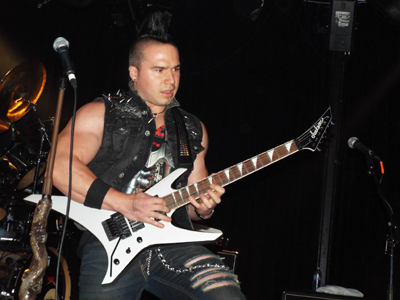 Glenn: Are there any particular guitars you like to use the most for live shows and if so, which ones and why?
Maxxxwell: I'm using a pair of Jackson Warriors on the Hellion tour and I use either Jacksons or ESPs usually in my solo band. At this point I'm not really attached to a particular brand, I just love great shred guitars. I have a totally bitch'n collection of shred guitars. I've got Jacksons, ESPs, one of the 29 fret Washburns from the early 90s, an Edwards from Japan, a Gary Kramer Guitars R29 (also with 29 frets) and of course my machine gun guitar that's on the cover of my Full Metal Thunder EP.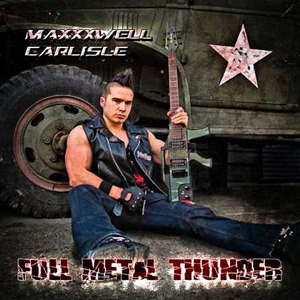 Glenn: Aside from being a guitarist, you also have a career as a body-builder – care to tell us how that interest came to be, how you prepare for competitions as well as notable moments with regard to this?
Maxxxwell: I've been doing bodybuilding almost as long as I've been doing music. For me, they have both grown together and they're both a huge part of who I am. I got interested in lifting weights back in High School and a couple years later a friend of mine from the local gym suggested I do a competition. I did my first one without ever having seen one in person! But it was a great experience and I kept doing them. In total I've done more than 25 competitions including the USA Championships twice. Lately my recording and touring schedule has kept me from competing but it's something that's still very important to me and I hope to return to it soon. The preparation and dieting is so strict that you can't do too much else when you've got a competition coming up, so I'll have to find a time when I've got a break from music.
Glenn: What would you like to say to your fans and the Metalliville Readership who have read this interview?
Maxxxwell: All I can say is thanks for reading and keep supporting METAL! United we are strong.
Glenn: What else would you like to discuss that I haven't covered in the Interview so far?
Maxxxwell: I should mention that I have a new solo album coming out! It's part compilation album and part new material. I've taken key tracks from all of my previous albums, completely remixed and remastered them and then included some brand new tracks and put them all on one CD. It's called "Visions of Speed and Thunder". The title track is available right now as a single on iTunes and it features guest vocals by Fang VonWrathenstein from Lords of the Trident. He delivers an ear-splitting performance. The full album should be available at the beginning of the year.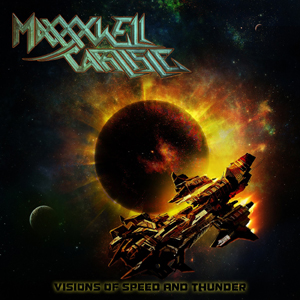 Glenn: How would you describe the guitar style of Maxxxwell Carlisle without simply saying 'a shredder' and why?
Maxxxwell: I'd like to think that my songwriting sets me apart from other shredders. I always try to write something catchy that will stick in people heads. I think that's missing in a lot of modern music. It doesn't stay with you. So, I would say my style is fist-pumping, head-banging shredding. \m/
Glenn: What are your hopes and aspirations for the future with regard to music and also body building and for what reasons?
Maxxxwell: I've got a lot of irons in the fire right now. I'm working on new songs for my solo band, both instrumental and vocal, plus I'm also working on new Hellion songs. Like I said earlier I would like to return to bodybuilding competition or at the very least do some kind of modelling or something that's more directly related to bodybuilding. Outside of music and bodybuilding, I'm also a member of the Planetary Society, which promotes space exploration and technological advancements relate to space. So I'd like to continue doing what I can in that field. I also have an idea to build a guitar amplifier that runs on a Radioisotope Thermoelectric Generator. That will probably take a few years though. Plus it's radioactive so there's all kind of paperwork to figure out.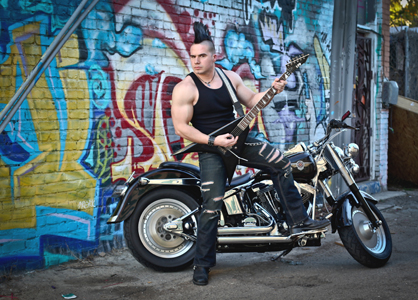 Maxxxwell Carlisle
Bodybuilder and Shred Guitarist
Official Facebook - https://www.facebook.com/max.carlisle.9
Youtube Channel - http://www.youtube.com/maxxxwellc
Official Website - http://www.Maxxxwell.com
Promotional Images supplied by and used for the Interview with permission from Maxxxwell Carlisle
Live Concert Photos at Paladinos Club & Whisky A Go Go by OZZFestAmy