An Interview with
'Mitch Perry'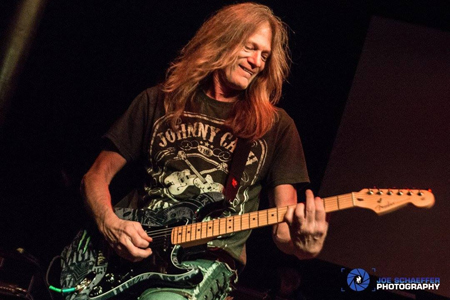 Guitarist of many artists over the years that include
Cher, MSG, Hughes/Thrall, The Edgar Winter Band & many more!
that took place on August 24th 2016.
Interviewed by Glenn Milligan.
Mitch: Hello.
Glenn: Hi Mitch, how are you doing, it's Glenn from Metalliville, calling from the UK!
Mitch: How are you doing?
Glenn: I'm doing good man! It's been a beautiful day here. How about you?
Mitch: Well it's L.A. so everyday is a beautiful day.
Glenn: Yeah. I've been there a few times.
Mitch: What part of the UK are you in?
Glenn: I am about 15 or 16 miles outside Sheffield in South Yorkshire.
Mitch: Wow! I can hear that in your accent. I actually grew up in London from 1971 – 1974. My dad raced cars back then. We lived in London. I lived in Fulham and went to West Minster City School.
Glenn: I was going to ask you about your Dad actually. Where did interest in racing cars come from?
Mitch: Well we went over in '71. There was a guy who wasn't too far from you called Tony Dean. His son, Richard Dean is also quite successful in racing. Tony lived in Leeds and we came out. He was going to drive his Formula 3 car, the same year that James Hunt and Roger Williamson, Niki Lauda and all those guys were racing Formula 3. Of course, things didn't work out the way they were supposed to and he ended up not getting where he wanted to go, retired and came back to America. Those were the days. I'm still heavily into racing. I actually quit The Edgar Winter Band and went full time racing for a while. I was teaching at Skip Barber and teaching at Dale Jarrett's School and running whenever we found someone silly enough to put money behind it.
Glenn: I guess you got into that through your Dad and the interest grew from there?
Mitch: Oh yeah! My first words were 'race' and 'car'. When I was six years old, I could tell you which corners of Brands Hatch were what gears in which cars.
Glenn: Wow!
Mitch: I was a nutcase. I write for racing magazines every now and then. I'm still heavy into it. I wake up every morning if there's a Grand Prix. I'm up at 4am in the morning watching live! There's no such thing as taping it for me.
Glenn: My Brother-In-law Paul is the same. He watches it every week and if he has recorded it he will say to my Dad, "Don't tell me who wins because I haven't watched it yet!"
Mitch: I tell you, I go nuts when we're travelling, I don't want to know and it's impossible for me not to find out because I've got so many friends who are into it. They all call. "Hey, you watching this…", I'm not going to tell them to shut up if something good happens, I say, "What happened?" For me, it's not just Formula. I'm as nuts about Indi Car, Sports Car… if it's got wheels, I like it! I've got a complete collection of Autocourse from the first one in 1961. I've got Automobilia's from '53 – all complete. There's about 800 books in my library.
Glenn: Wow!
Mitch: I've been fortunate that the two things in life that I've ever really cared about are racing and music. Those are really the only two jobs I've had.
Glenn: That's great isn't it? You can't wish for a better life could you? That's awesome.
Mitch: Yeah! It's not been bad.
Glenn: As well as asking about cars, I saw the picture of your Dad on your facebook page and also a clip on YouTube where you are teaching reporter how to drive Nascar!
Mitch: That was when I was teaching at Dale Jarrett School. He's a two-time stock car champion. That was at Fontana California Speedway. That school was cool. They flew me all over the country when I taught for them. I taught at Daytona, Talladega, Bristol – you name it, we went there! I think we were at 14 different tracks. The cool thing about that school is that we ran those cars and we'd have ten cars up a track at once and we would allow passing. So if you showed up, wanted to go fast and weren't obviously going to kill yourself, you got to do that!
Glenn: That's class!
Mitch: Then there was the other case where even though I didn't say so on the camera, that Kelly, the Newslady, I was having to shove her foot down on the gas pedal so the cameras weren't embarrassing.
Glenn: (I laugh) That's brilliant. The things that the world don't see – usually the best bits!
Mitch: Yep! That's how it works. A lot went on behind the scenes.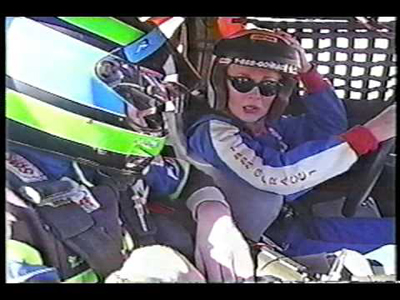 Glenn: Anyway, onto some music – let's see where the music takes us. You grew up originally in Davie, Florida?
Mitch: Yeah! I started there. That's where we went from England. I was born in New York, we moved to England, did that and then when my Dad quit we moved down to Florida. At that point when he wasn't going to be a race driver, I wasn't going to be a race driver. There was no encouragement to follow that path. I started picking up guitar, funnily enough when we lived in England. My Mom had a guitar. She always tried to show me a few chords and I barely had much interest in it still one day and there was this kid at School. The first school was about half a block away from my house. I knew this kid who played guitar, so I ran home from lunch one day and said, "Show me those chords Mom". I wanted to show him that I could play guitar too.
After that, I used to watch 'Top Of The Pops' religiously. I remember jamming along to 10CC when 'Rubber Bullets' was on. My parents said, "How do you know how to do that?", I said, "I don't!". At that point I decided that maybe there was something to play on the guitar. When we got to Florida, since there were no cars, my dad wasn't racing anymore – nothing – that's where all my interests went. I got really serious about it. It's really weird. I almost immediately fell in with a kid called Bruce Lipkin. We started a band called 'The Kids' when we were 14 and 15. Bruce – you may not recognise the name but he's Johnny Depp's right hand guy in Hollywood Vampires. Johnny came in to replace me in The Kids when I got my first gig out in California.
Glenn: Wow!
Mitch: It's funny because from the get-go, I played in this band with Bruce. We learned a lot really quick because we were just in an environment where there was nothing but music 24/7. His Mom managed the biggest band in Florida and we shared a house with them. When I was 16, I moved into the house. Before that, I might as well have moved there anyway because I spent every spare second there. It was a great way to grow up. The club that we played at was where you would go if you were recording in a criteria or in town to play a concert at an auditorium. In the Summer of '79 I got to jam with Bon Scott of AC/DC and they were making 'Highway To Hell'. Ronnie Dio came down. I actually went to the studio when they were recording the Black Sabbath record.
Glenn: That's amazing!
We had Ted Nugent come through there, Steven Tyler and Pat Travers. Funnily enough, Pat Thrall really liked how I had played back then and that's how I ended up going from Florida to California. Pat recommended me for this gig with Alphonso Johnson, which funnily enough, the drummer was Vinny Appice – pre-Black Sabbath. He had just left his band 'Axis'. They asked me for a tape, I didn't have one, so I made a cassette tape off a Top 40 gig that night with The Kids. I sent it out and a week later I was flown out to California.
Glenn: Wow! That's what dreams are made of! Right time, right place! That's awesome.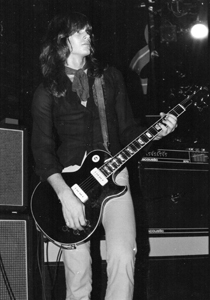 Mitch: That's pretty much the start of everything. It's a case of being able to take advantage of it when that place and time happens.
Glenn: So did knowing Pat Thrall. Is that how you because the guitarist when he had Hughes/Thrall or did that happen later?
Mitch: What happened there is that when I met Ronnie, he took an interest in me as well and had told Glenn about me. When the project that I was doing… we were signed to Electra Records when I was with Alphonso and Vinny Appice. That basically was two weeks away from the release. We'd shot all the photos and done all the liner notes, the record was mixed and ready to go. If you follow the history of the record business, it was one of their black Fridays where the entire A&R dept. got fired and it happened to Electra. We were guilty by association. Our A&R got canned and our record got shelved because of it.
I hadn't done much as far as networking but I knew I didn't want to go back to Florida. The one person I knew who had his finger on everything was a guy I bought some gear off at the Guitar Centre. I went down to the Guitar Centre, this was in late June/early July 1980. I asked him if he knew anybody looking for a guitar player. He said, "Oh there's this band, Quiet Riot, they're bigger than Van Halen. Their guitar player just left to join Ozzy Osbourne". I said, "Fine. Well that sounds great!". He called up Rudy Sarzo who he happened to know and Rudy had just left to join Angel.
Rudy talked to me on the phone for a while because I was from Florida which is where he was from after Cuba. We hit if off and knew enough of the people. He said, "Well I'm not in the band but here's Kevin Dubrow's number." I ended up calling Kevin, went over to his house from the Guitar Centre, played him the acetate of the album I did with Alfonzo and ended up replacing Randy in what was Quiet Riot but now called 'Dubrow'. This was because according to Kevin, it couldn't be called 'Quiet Riot' without Randy.
There was another guitar player, Greg Leon who had done one gig with Kevin. But that was the only gig I did with Kevin. I played with them at The Starwood. Glenn Hughes was there. Glenn came up to talk to me and realised. He put two and two together and said, "You're the kid that Ronnie was telling me about!". At that point in time, you have to realise that even Randy was still unheard of because he was busy recording those records with Ozzy. For me, this was a no-brainer – do I stay with Kevin or got to Glenn Hughes?
Glenn: Well exactly - Yeah!
Mitch: Hindsight being 20:20, I might have wanted to stay where I was but I didn't.
Glenn: Yeah and Glenn Hughes is an absolute legend.
Mitch: Glenn was one of those freaks of nature.
Glenn: (I laugh) Nice guy though isn't he?
Mitch: Yeah! He's a sweetheart. He was so nice to me back then. By then I was kind of couch surfing. He put me up at his house while we were making the demo and I stayed there for about a month. He was just a really, really nice guy. He stay in touch after all these years which is nice. Remember, Pat Thrall is who got me my first gig out of here and I put the two of them in touch when thy decided to get Hughes/Thrall together. I gave one of them the other's phone number.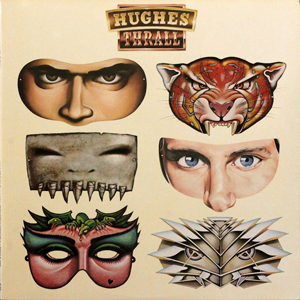 Glenn: That's incredible! I mean, someone had to put them together so it might as well have been you that did it.
Mitch: I can still remember the first time I ever made print. Jake E. Lee and I were the last two guitar players to go for Ozzy. He'd hired George Lynch for about to minutes, He said, 'This isn't going to work". He asked Dana Strum for ten tapes of the ten best guys in L.A. and he picked me and Jake to come down and play. Kerrang reported on the audition, They said, "The gig came out to a shoot out between Jake and a baby faced Pat Thrallish guitarist named Mitch." They didn't even have Perry as my name. They had my real last name. Perry is my middle name. My full name was Mitch Perry Brownstein. It basically said it came down to him and me – the baby faced Pat Thrallish guitarist.
It's true. I tried to emulate everything he did. He taught me the echo stuff way back then. I was tapping long before people learned how Eddie Van Halen did it. Back then when Van Halen came out, we didn't have all the videos. Somebody showed me that trick long before Van Halen. I said, "This is a waste of time. You could pick these notes the same way you can tap them." Then I'm trying to pick out 'Eruption' and I couldn't after the first couple of sequences as in the first couple of triads in 'Eruption' which you can pick.
Then the spread gets so wide and I said, "Hey! Wait a minute!" The light bulb went on. I said, "Okay" and then I figured out how to play 'Eruption' before everyone was seeing the video. That became a big thing for me down in Florida. When I remember Pat telling me, "You've got to stop doing that or you're going to be like every other guitar player in L.A.", and he was right. I did stop doing that up until I played in Talas, then when I saw where Bowie took it, there was no way not to do it again.
Glenn: It's funny you should mention that because you see some of the hair bands of the time and it's like the same riffs, the same pose and similar things that they were all doing. They all had the same coloured hair etc. It was as though they all came from the same school and taught by the same teacher.
Mitch: Well I've got to be careful in how I say this. When you are a guitar player of the highest calibre with any band for example, Eddie Van Halen, Jeff Beck, Gary Moore or Pat Thrall, all the kids learning think that they have to go out and get the right amp, the right guitar and the right pedal and that's going to give them their sound. Thy study it, they learn it and they get it down. They don't realise that what really makes these guys as special as they are isn't something you work out or learn or emulate – it's who they are! It's what they are. To that end you have to go for that yourself. When you have so much information available to you as you do now with the internet, with youtube or even back in the 80's G.I.T. and everybody going to it, it's just natural that everyone's going to.. due to the ego and the competition part, everyone's going to try and learn everything they can off their favourite guy.
It's funny because I just said yes to the Ratt gig with Blotzer and for me to that gig properly… I mean, I first saw Warren (De Martini) play in 1982, in fact me and Jake (E. Lee) went to see them play because we were pals back then. He said, "Yeah, you've got to see this guitar player". When I went to see Warren play I was blown away and I've been a fan ever since. I actively try not to sound like that even though I love the way he sounds. He was doing a good enough job – he didn't need me doing it. I find out as I am learning songs now that I wish I'd learned more back then it would be a little easier.
Glenn: Yeah. A certain online magazine has been on the pulse of this all the way through saying this person is in, this person is out and now you are in the band as well as Stacey Blades.
Mitch: Yeah, Stacey and I are going to play together. I guess they've got to write about something. All I can say is I'm a working musician and all the guys in the band are my friends. I hope the other Rats are still my friends. I'm going to go and do a good a job as I can. In this case, it's doing justice to what those guys recorded. They made some incredible music. Warren to me is one of the best of the best. He really is. It's challenging having to learn it I'll tell ya! I've got away with being lazy about stuff like that because I've always said, "Well I'm going to be myself!".
Glenn: I remember meeting them all at Sheffield in 2008. Warren was this quiet, nice humble soul. No edge at all.
Mitch: Yeah he's great people and a supreme talent!
Glenn: Definitely. How did you become Cher's guitarist? That's mind-blowing to be onstage with her!
Mitch: At the time, a little known fact of my career. I actually replaced Steve Vai in David Lee Roth. I was the first guy hired for the gig and unfortunately I don't have a good poker face (We laugh). At rehearsal, David was asking us to do some things that I don't think I was assimilating too well. I don't remember saying what Greg Bissonette just recently told me that I said that got me fired. Greg and Matt both swear that I did. Basically, I was still smarting for not keeping the David Lee Roth gig. A friend of mine was playing in Cher's band. She was about to go out on the road for the 'Heart Of Stone' Tour and had auditioned everybody in town and at the last minute decided that she didn't like who she picked and she didn't want to re-audition anybody. I was somebody they hadn't auditioned.
So I was called up and at this time I was a little full of myself. I said, "I don't do cattle calls!" and they said, "No, this isn't a cattle call. You've been highly recommended. Just come down and play, learn these five songs and if Cher and you get along, it will be your gig." That's basically how it went down. Whereas musically, it might not have been exactly where I was at the time. I'd also made nothing like the money that I was making with her. So it was no brainer and it all worked out. Then I was trying to put a band together called 'Badd Boyz' with Paul Shortino and Shaun McNabb at the time. After I had been with her for about a year and a half I bailed out. The final tour I did with her was Australia and I wasn't going to so that originally. Her Manager sent me the itinerary. He said, "Please figure out a way to do it". I looked at the itinerary and she was the entertainment at the Australian Grand Prix in Adalaide and I said, "Okay, this is do-able!".
Glenn: Hahahahahaha! That's brilliant. You can't make it up can you?
Mitch: It was awesome! It was an awesome trip. It was the World's greatest tour. I'm glad I did that in hindsight for the Australian leg because I think we only played nine shows but we were there for 20 days!
Glenn: Nice!
Mitch: It was a paid vacation. Plus I'd been in that band 'Heaven' which was all Australian to begin with. I had a lot of phone numbers and a lot of people who were all to ready to show me a good time. I wasn't wandering around like a lost tourist when I had days off there. It was just a blast!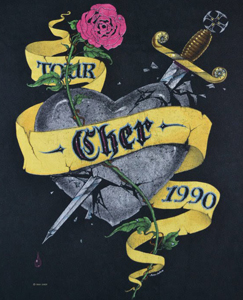 Glenn: What's she like Cher to work with and get along with socially?
Mitch: She was very nice to the band. She was married to Greg Allman so she knew what it was like. If you think about where she came from – Sonny and her were part of that whole Phil Spector thing. On the tour that I did, Irene Love and her sister were the background singers. That's rock 'n' roll history right there. In that regard and at the time, she was going out with Ritchie (Sambora) and our entire crew was Bon Jovi's crew because they were off for the Summer. It was nice situation. Some of the entourage was a little, "You're kidding me?" but Cher herself was a sweetheart.
Glenn: Awesome.
Mitch: I remember when I was playing Wembley with Cher. I went out to St. Moritz the night before and that was pretty much where the whole Kerrang staff used to hang out. I remember, "Hey Mitch, what are you doing in London?" I didn't tell them I was playing with Cher. I said, "I'm trying to get a record deal!". Of course, they are all backstage at the show the next night. "You didn't tell us you were doing this?!"
Glenn: Hahahahaha! Secret's out!
Mitch: Yeah I think about the year I had played Wembley with MSG – we opened up for Whitesnake. That has to be a record in variance of axe!
Glenn: I have only been there once. I went to see Guns 'N' Roses on 31st August 1991 and the sound in there was amazing.
Mitch: Yeah I remember that. As a matter of fact, we played Birmingham NEC with Whitesnake. The Wembley shows were New Years. I remember going to a party with Adrian Smith at Fish's house that night! It's the stuff I haven't thought about in ages. You are dragging up some memories – definitely.
Glenn: I've met Fish myself at the Boardwalk in Sheffield. He's a really tall guy but a gentle giant. A really nice guy.
Mitch: Yeah and the funny thing is, I was drinking so I don't remember a lot of the details but I remember spending more time at that party talking to Nigel Mogg. I was a huge UFO fan. When I got the Michael Schenker gig I was thrilled. When I was learning how to play right from the get-go, my two favourite players were Jimmy Page and Michael Schenker so it was a privilege to get to play with Michael.
Glenn: He's a great guy as well – Nigel.
Mitch: Yeah. I hope Pete's doing well.
Glenn: Yeah, I've been keeping up with how he is too.
Mitch: I was hanging out with Pete (Way) at the time. They were both staying at the Oakwoods and Michael had just got there. Michael and I knew each other because we were managed by the same management. I was managed by Leber and Krebs at the same time that Michael was and he knew I played keyboards on the 'Heaven' record and whatnot, so he came over and asked if I was interested in joining the band. I said, "Well I don't really want to play rhythmy". He said, "You do the tapping stuff you learnt and I don't. I think it would really work really well together. In fact there's a solo it would probably sound good on". I said, "Oh great! I'd love to do it some time".
I was in the pool at the time. He's standing outside the pool and I'm at the edge of the pool still in the water. He said, "Well is your guitar near by?", I said, "Oh yeah! It's sat upstairs". He said, "Well go get it". Literally I did. We went to Sound City and Andy Johns and Robin (McCauley) and the Germam Manager were all in there. Then Michael said, "Hey guys, this is Mitch, he's going to try the solo on 'Give Me Your Love'. I looked at Michael like he's out of his mind. As history will say, I said, "Well let me try it anyway", I did and I joined the band for a while.
It was probably one of the most fun Summers I ever had. We were just all hanging out at the Oakwoods. Waysted were there looking for a guitar player. Carobi was there with his band, there was a band called D'Mollz that was happening. It was just a non-stop party. We'd sit out by the pool all day, then go to the Rainbow. In-between you might go to the studio and see how Andy was getting on with the mix!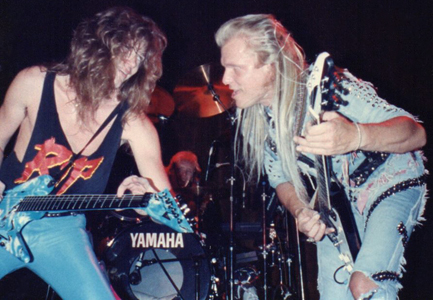 Glenn: Hahahahaha! That's some life isn't it? That's damn funny that!
Mitch: Michael gave me my greatest guitar lesson – not on purpose. I was talking earlier about how people sound like themselves and it doesn't matter what amp you are playing through. That was my lesson in playing with him. We would share a Gallien Krueger to warm up to on the Whitesnake Tour. He would be playing his V and sound awesome then he'd unplug it and I'd play for a little while on my Bladerunner. Man, his guitar always sounded better.
Gallien Krueger is basically…. It didn't matter what you stuck in, they were so compressed, they sounded pretty much the same but Michael's guitar just sounded extra special good for some reason. One day I walk into the room and the guitar's there plugged into the Kruger but there's no Michael. I thought, "Hmmm, I'm gonna pick this up and play this magic guitar" and it didn't sound 1/10th as good as my guitar. (We laugh) That's when the light bulb went on.
It's how you touch the thing and it's what you put in that's beyond. No matter what amp you're playing through it still is your hands that make that sound. Michael is a master of it. He could pick up a ukulele and it's going to sound like Michael Schenker playing.
Glenn: (I laugh) Whereas you pick up one and it sounds like Mitch Perry playing.
Mitch: Ha! Hey, I hope so. I've been trying to get that down since that day.
Glenn: I see you played with Faster Pussycat. I guess that was session stuff, yeah?
Mitch: Yeah as much as we can. I've done all sorts of different stuff. I'm on some records that you would never believe. Believe me, I played on things like with Steve Goodman, the guy who wrote 'The City Of New Orleans', I'm on one of his records, I've played on Graham Nash's cut ('Love Is The Reason') that's on 'Fast Times At Ridgemount High'.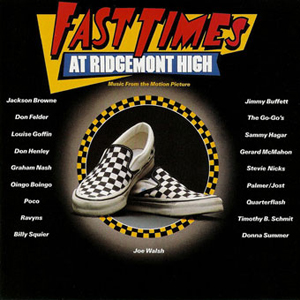 Glenn: Yeah! I saw that! A great film!
Mitch: One of my favourite records I ever got to play on to this day is the Frankie Miller album, 'Dancing In The Rain'.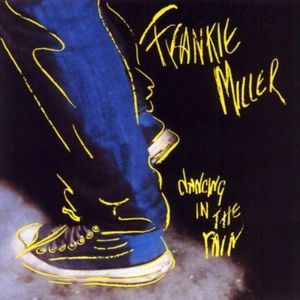 Glenn: As well as working with other people, you've done solo stuff as well like the album 'Wire To Wire'. Are you working on any solo stuff now for a new release?
Mitch: I do have stuff and I want to do it. With the current climate it just feels like it's spitting in the wind. I don't want to do a Frontiers style record. The way I would do it, I'd put a lot of sweat and blood into it. It's frustrating when you think you could put the same amount of effort into a race weekend but either thing is not going to have the same effect on your career. You'll be proud of what you accomplish hopefully but at the end of the day, I don't think it's really going to change anything. I have stuff but there has to be a little bit more of a reason than YouTube for me to put it out.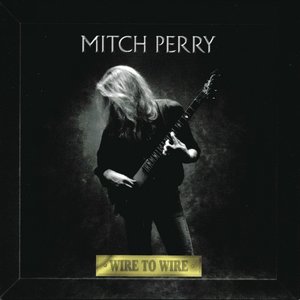 Glenn: I have a feeling that quite a few people will have thought a similar thing because you have been doing the 'Ultimate Jam Night' for quite a while. They will have found out about you and all these things you have done in the past and think, "I'd to hear other stuff he's done and some of his own material as well as being on stage at the 'Ultimate Jam Night'.
Mitch: I love being a part of 'Ultimate Jam Night' because it keeps you fresh. We try never to repeat stuff and you're always just getting to play with really great people. Plus for me, it's been a little bit like, 'This Is Your Life'. I've played with Billy (Sheehan) for the first time in years, I've played with Ralph Saenz for the first time in years. The list goes on with people I hadn't played with in ages. It's been nice enough to grace our stage. The new ones I've got to jam with like Robin Zander and Dee Snider. I mean, really, really great things up there.
I owe a big thank you to Chuck who runs it. Chuck and I have known each other since 1980 so it's so much fun being able to that. He's really the sweat and blood behind that. He busts his balls and I'm glad he did. He's given more than a few musicians a great place to go. You know it's not a favourable climate out there for a lot of people and the 'Ultimate Jam Night' is certainly a nice home for a lot of us.
Glenn: I was talking to Chuck in August and I saw it when he had it at Lucky Strike Live! and I saw the first night at the Whisky A Go-Go when Billy Sheehan was there. It was a phenomenal, mind-blowing night. It could not have been better.
Mitch: I've got to say that I love the move to the Whisky because even at the other club it was a great night – the stage and the club was an after-thought. It never really sounded on stage the way you want it to sound, where you could hear everybody properly and the Whisky, then it feels like a Rock Band! So I just feel a lot more connection playing with people I play with at the Whisky that I felt at the other place. We're really glad we moved it. Last night was off the hook. I took the night off because I'm so behind the 8-ball of what I've got to learn for the Ratt stuff and I've also got a Dilana Tour that I've got to learn her entire set for. There's just so much stuff on my plat that I'd figure I'd take a week off.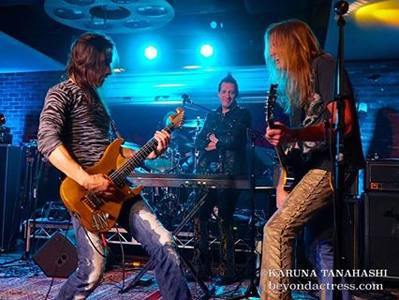 Glenn: I can't fault you. What have your favourite nights been at the 'Ultimate Jam Night' so far?
Mitch: The one coming up because you never know what you're gonna get!
Glenn: That's a good answer! (I laugh)
Mitch: That is the beauty of it. It keeps you fresh, it keeps you on your toes and it keeps you motivated. There's always someone really fun to play with dropping by and it never gets into the same old routine where the same dude comes down and plays the same song which a lot of jam nights have fallen fate of that stuff. The people that are involved with the 'Ultimate Jam Night' work really, really hard in that regard to make sure that doesn't happen. To that end, I almost stay out of that stuff because they do such a great job of it. They don't need another cook in that kitchen. I say, "Tell me what to play and I'll learn it". (We laugh)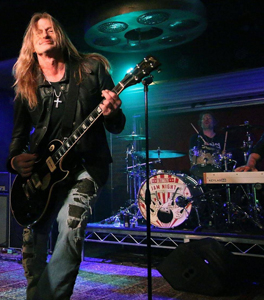 Glenn: What songs have you enjoyed playing that you'd never ever think about playing yourself?
Mitch: We had Laura Bennett from the Pussycat Dolls. On the Monday before the jam we got a tape of the original song of hers. My first thought was, 'You're kidding?' but when you hear the job the band did on it I'm as proud of that as anything else. It certainly didn't sound exactly like her recording, let me put it that way. The band did what it did but it did justice to what she recorded. The band really kicked butt on it. It's a great line-up for a house band. Walter Ino is super, super talented, Matt and Chuck are a brilliant rhythm section. It's a pleasure playing with those guys. We have so many good people that come up. Debby Holiday is really good singer.
Glenn: She's amazing!
Mitch: I always love doing some 'Humble Pie' with her. That's one of my favourites.
Glenn: That's one of my favourite bands just about.
Mitch: Then you better hope I record some of my stuff some time soon because I want it to be somewhere where Humble Pie would be if they were going.
Glenn: That's killer! Get it done!
Mitch: That's what I (would do). There are so few people who play that way.
Glenn: Yeah! That aggressive dirty blues style as though he is going to smash his guitar to smithereens but keeps it going and extremely gutsy. It's almost like he smashes the guitar like glass or something. He had that blues and that dirt to it as well. It was Steve Marriott. You can't put your finger on Steve Marriott's style – it was Steve Marriott – Legend!
Mitch: Yeah! Steve Marriott is one of the greatest musicians to have ever graced this planet.
Glenn: Yeah! The last thing I bought was a Steve Marriott DVD – 'The Lost Concert'. Recorded live at 'Dragon's Waldcafe', Saarbruecken, Germany on the 10th October, 1987.
Mitch: You know what's funny, is that I saw him play about that time in Germany because I was there rehearsing with Schenker – we were in Hanover. When I saw him it would have been October 1987. It was exactly when I was there.
Glenn: You never know, it might be the same gig.
Mitch: I wonder.Well there's no question in my mind that I went to see him play when I was in Germany at that time.
Glenn: Yeah. I got into all those guys like Humble Pie, The Small Faces, Faces, The Rolling Stones, Ian McLagan, Bob Dylan etc and one way or another they are all linked together.
Mitch: Much like here, like we were talking about in the beginning, it seems like everybody is in the same stuff. The circles are pretty small circles when you get down. I'm sure it's the same way back then for those guys. Much as the L.A. Scene was pretty incestuous, everyone's played in everyone's bands. It's the same thing. History repeating itself basically.
Glenn: Do you have many musical instrument endorsements that you will be showing at NAMM in 2017?
Mitch: I'm going to be working with Charvel-Jackson. For the longest time I really haven't been worried about the endorsements because I've been happy with my Marshall JC 800, I'm happy with my Les Paul. The Les Paul I have, I actually bought new off the shelf in 1978.
Glenn: Wow!
Mitch: I have a picture of me playing it onstage with Kevin Dubrow at The Starwood in 1980. I said, 'It's scary, we both look new back then!
Glenn: (I laugh) You've done a few shows since then!
Mitch: I'm sure I'll probably be doing some stuff with these guys but I literally just hooked up with them. Once again, I didn't want to take out any of my original Charvels because they are things that Grover (Jackson) built for me back in the 80's because I'd hate for their heir-line to do their number on them. It's the same as my Les Paul, I only bring that if I'm carrying it, I won't check it. Our schedules are going to be so that I am going to want to check things. Plus that as much as I love my Les Paul, I don't think it's the proper tool for the job for Ratt. We are going to go back to the Charvel-Jackson thing and I'm sure I'll be doing something at NAMM this year. The last couple of years there have been great things that I've had to choose between NAMM and the race track – sorry to say, the racetrack's won. Some people are doing some really nice things for me, so it's only right I repay the favour.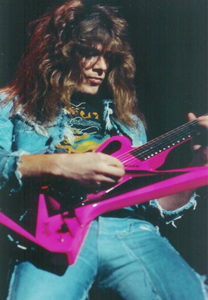 Glenn: Yeah it's such an incredible experience. I went in 2015 but I missed it this year.
Mitch: NAMM is an experience. I went to my first one, the first weekend I was out in LA. For a long I looked forward to NAMM like kids looked forward to Christmas. It was just a great weekend of seeing everybody you ever wanted to see and getting to try out any piece of equipment you ever wanted to try. It is definitely a happening. Not one to be missed.
Glenn: Not at all. As well as you being there, I know you've done quite a few of the shows as well that have been off-shoots or centred around NAMM such as the Bonzo Bash; Randy Rhoads tribute or 'The Ox and Loon'.
Mitch: I've done pretty much The Bonzo Bash every year and I did Randy the year before last. This year, I did the 'Ronnie Montrose Remembrance'. I played with Brad Lang at it and I remember saying to myself, "God I wish he wasn't in Y&T, I'd start a band with him, he's so good!". It's neat that we are going to be playing together soon.
Glenn: Awesome. What about the Montrose Wabos Experience with Keith St. John?
Mitch: That was awesome. Playing with Dave Lauser and Mona (Gnader), we actually played for the first time at 4 O'clock that afternoon.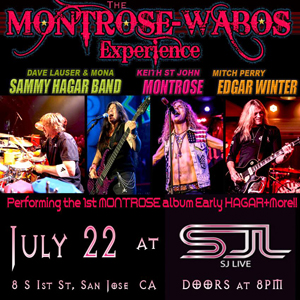 Glenn: Wow!
Mitch: I have video of the entire show.
Glenn: Yeah?
Mitch: We sound like we've been playing that stuff for years. I mean, it was such a blast to play with them for me. Dave was just a monster on the drums. It turned out to be a great gig for me because the Editor for Guitar Player Magazine was at it. He came up and said, "I've noticed you haven't been in 'Guitar Player'", I said, "Well you know, I've noticed that too!" They were nice enough to do an article on me in their November issue.
Glenn: Awesome.
Mitch: I was really happy about that and it came about because of the Montrose Wabos Show.
Glenn: Nice!
Mitch: But that was a blast. We did every song from the 1st Montrose record and a couple off of the second, some Edgar Winter stuff that I used to play.
Glenn: Have you seen Edgar for a while?
Mitch: I haven't. I see the guys who play in his band, KoKo (Powell - bassist) comes down to our jam quite often. We've been talking through Koko. We keep saying 'Hello' and sending messages and everything. I talked to him on the phone about six months ago. Edgar is one of my heroes and another I am so privileged to have gotten to play with him. Back when I was playing with him, we still did records. I played on three of his albums. He played on my solo album 'Wire To Wire'. It's what I call the best finishing school you could have ever been on as a musician. There is nothing he doesn't know or understand about music and to get to play with him was a privilege. Not only that, it's who he would play with. I got to perform with Dr. John, Leon Russell and on his record I worked with Eddie Money, Bobby Kimball – like I said, everything that you could want. The beauty of it if I think of all the ten years I played with him, we rehearsed two or three times.
Glenn: You just did it all on stage. Let's see where we are going.
Mitch: Yeah! He'd make a demo of a song and say, "Hey, learn this!"
Glenn: "We're doing it on Tuesday!"
Mitch: Yeah! What made it so great about playing with him is that he wasn't the kind of guy who'd come in and tell you, "Okay you've got to play this or you've got to play this", you know?" All he asked for is that it be good. If you were willing to stretch, he loved that as long as you weren't wasting time. If you ask me what my favourite musical experience was, being in his band would rank right up there at the top. He was just magic.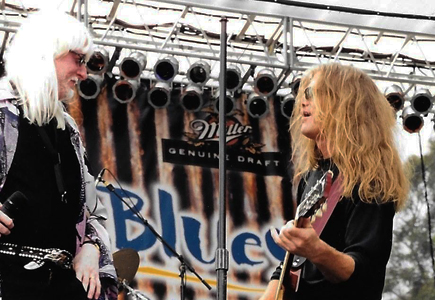 Glenn: Awesome. There must have been some gigs that really stood out to you from playing with Edgar Winter as well over that ten years?
Mitch: The Montreux Jazz Festival in 1999. Rick Derringer was part of the band, the original 'White Trash Horn Section' & Bob Birch, the late bass player from Elton John's Band. We opened up for BB King, Johnny Lang opened up for us, Gary Moore was in the audience and Gary's one of my top three of all time – he's always been. It's funny, I went up to introduce myself, "I'm Mitch Perry from…", I was going to say "from Edgar Winter's Band" and he cut me up and said, "I know who you are" and I walked around like a grinning fool!
Glenn: Yeah, He's been gone a few years now.
Mitch: Gary is one of my heroes. I can say that about him.
Glenn: Earlier you mentioned Ralph Saenz and Paul Shortino. I noticed that an album came out called 'Better Late Than Never' – is that still available.
Mitch: The guy who ran Z Records took that 'Better Late Than Never' album, re-sequenced it, out it out in England under 'The Mitch Perry Project' and I didn't authorise one thing.
Glenn: Wow! So in essence, it's a bootleg.
Mitch: Yeah! I mean, it's official because I did sign a contract but he never paid one cent, not even the advance that was due on us. He never even sent it. I've got 6 months of e-mails back and forth of just complete bullsh*t!
I'm proud of the project. Both bands were great in their own way. Badd Boyz morphed into 7% Solution. When it was apparent that Badd Boyz wasn't going to take off and Paul started going in a different direction, I saw Ralph sing in his first band which was called 'Long Gone'. He's a superstar. I tried to get him in Bad Boyz for about six months but he wouldn't quit 'Long Gone'. Then one day he finally asked if I'd join 'Long Gone'. I liked his singing so much and thought he was such a star so I said, "I'll do that". I looked at him twice and said, "Okay, come with me and just jam with Sean and my drummer and tell me this isn't what you want to do!". That's how we did it. He's a superstar! He's definitely one of the best around!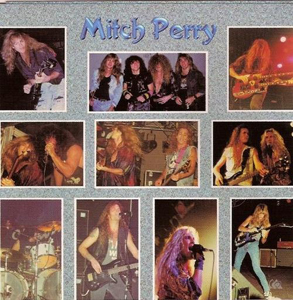 Glenn: Yeah, he's a great guy! I mean, Steel Panther – what a band! It's either love 'm or hate 'em. Some love 'em, some hate 'em. I think they are great. They are bringing it back up. They might be sending it up but it's putting the 80's bands and the styles back where it should be.
Mitch: I think whether they did this by design, they were really smart in how they first came out because they poked fun at the 80's and in L.A. it made it cool to go out and see them. In L.A. no-one would have gone out and seen you if you were trying to be an 80's band. But you go to their shows and everyone loves screaming to Bon Jovi or screaming to Poison. The fact is the guitar player's great, Ralph is great – the band is smokin'. I think they just hit on a combination of things. More power to them.
I'm glad Ralph's having the success he is because he's been a star since the first night I saw him. I think if you saw the original pressing of 'Better Late Than Never', I took all the rejection letters we got because we were shopping all the major labels. I made a collage of all the rejection letters. It's sad to hear 'We love the band but their not what the musical environment is right now – their not in flannel and the singer is a superstar – he's not depressed'.
Glenn: No-one's on heroin, we're not interested! (I laugh)
Mitch: Hey, I guess everything works out the way it should.
Glenn: I mean if you look at Steel Panther now, it's done a lot of the bands a favour because it gets kids going to check who did the original songs. All the kids then finds out about all the 80's bands again through those guys! It kind of works. It's what goes around, comes around!
Mitch: Yep! Absolutely!
Glenn: You've won awards before such as in 2007. What does it mean to you to win an award and what goes through your head when you find out you've won an award?
Mitch: Thanks that somebody is paying attention. I've been fortunate to get a few of these throughout the years. It's nice that the guy who puts it on has been really nice to include me in his shows. He's always been a fan of my playing. It's nice when somebody puts their money where their mouth is. He's got a big show he tries to put on and that's through a lot of years. He did it for the first 25 years before he sold it, in fact he's doing another one. It's a new show that's going to start up in November. I'm just very thankful that somebody's paying attention and decided to give me a nice piece of art for the wall.
Glenn: You said earlier you that you played with Bon Scott on stage. How was that for you?
Mitch: I couldn't even tell you that now. I know I did it but at the time I don't even know if AC/DC was that big to me. Now I got back and look at videos of them and I can't believe what an incredible band they were. I'm talking about Bon and when you look at some of the footage from 1978!
The first concert I actually got backstage passes to was Pat Travers, AC/DC, Charlie Daniels and Andrew Gold in 1976. I toured with Charlie when I was in Edgar's band in 2000. It's funny to have had some small connection with all of them at one point. Honestly, I remember Bon coming in and he was just… you always knew something funny was going to happen because he wouldn't show up until 2 in the morning and the club stayed open until 5.
It was just the hindsight of everything that's happened in life. It's such a privilege to be able to say although he probably wouldn't remember if he was here that I got to do that with him.
Glenn: Awesome!
Mitch: You think nothing of it but there's a website called 'Limestone Lounge' and somebody's on it talking about the great moments of that club that I'm talking about that was called 'The Tight Squeeze Club' and they mentioned the jams with Bon Scott. It's a small moment in time but it leaves lifelong memories for people who were lucky enough to be there.
Glenn: You just mentioned Charlie Daniels and I'm a big Charlie Daniels fan. I've got the majority of his albums. About 95% of his stuff on CD and also vinyl. How was that for you being in concert line-up with Charlie Daniels?
Mitch: I tell you what, it was a thrill for me. Like I said, growing up in Florida, especially when we moved there in '74, all that mattered was The Allman Brothers, Lynyrd Skynyrd, Charlie Daniels and Marshall Tucker. I remember trying to learn 'The South's Gonna Do It Again' when I was first learning how to play guitar. It was too hard for me. It was really neat because the first night we did it, we were on the Volunteer Jam in 2000 and on that first night his guitar player Mark Matejka who is in Skynyrd now came out and watched a bit of my playing and got Charlie to come and watch my solo.
They asked me on stage to play the encore 'The South's Gonna Do It Again' later that night and I ended up doing that every night of the tour. It was getting to play with one of my original heroes. This is what a class act he was – I didn't see him again for probably 9 or 10 years. Talk about weird bills – I was playing with John Payne's version of Asia and we were on a bill with Charlie Daniels. I got backstage and went into his dressing room and he greeted me like I was a long, lost friend. I was thinking I would have to explain who I was. He's just another class act for being a legend like he is. I can't say enough great about him.
Glenn: I've not had chance to see him yet.
Mitch: He's worth seeing. He still goes up and puts on a show. I think they've changed a couple of members in the band recently but I can't see it not being as good. He's such a hard bar!
Glenn: Hahaha! Nice! What do you enjoy apart from playing guitar and being on the racetrack, what do you enjoy doing to relax? Just to chill out?
Mitch: O-Oh. I guess I re-define the word 'Two-dimensional'. (We laugh)

Glenn: So basically, you are a total adrenalin junkie. If you're not on the racetrack you're on stage and if you're not on stage, you're on the racetrack or learning to play new songs?
Mitch: It's funny, a girl I've been seeing was asking where I wanted to go on vacation and I was trying to explain to her that, "I don't need to go on vacation, I go on tour". She said, "So you're never going anywhere that you weren't on tour to?", so I said, "If there's a race I'll go" (We Laugh). I said, "If there's not a race and there's not a show to go to I can't imagine what the hell I'm going to do with myself when I get to the airport!"
Glenn: That's quirky! I like that! That's funny! So what is the best place you've been to that had a race?
Mitch: Well Australia was the most fun I ever had on tour. I did a gig in Tahiti once that was just a blast. The guy who hired bands - it basically was a whole barter thing. He would set the band up at a 4 Star resort for two weeks, get you a round of cars, feed you and drink you for free and believe me, I was still drinking at the time – had I made in cash what I drank, I probably would have had the most lucrative gig I'd ever had! It was just a total blast! He wouldn't deal with bands that had a Manager or an Agent. The deal was that you'd come and have a vacation, he gives you a nominal amount of cash and it was the best two weeks of your life. That was a highlight!
Race-wise, my favourite track is Laguna Seca and Road America. Those two tracks are just awesome! In England, there's Brands Hatch. I love Silverstone but Brands Hatch is the original Grand Prix track. It's been around since 1953. They added that extension in '64 and it's basically been the same track ever since.
I remember actually when we played the NEC, I made friends with someone and I had them drive me around Birmingham so I could figure out where the track (was). They had a Birmingham Grand Prix back in the late 80's for a Formula 3000 cars. I remember finding where they had that track so I could be driven all around it in Birmingham. I am nuts about it. I am not kidding! I'm a little whacked! (Laughs)
Glenn: Quality! What would you like to talk about that we've not discussed in the lat 80 minutes or so?
Mitch: I can't think of what we haven't talked about. It's been a very in-depth interview and it's been a pleasure talking with you man. I've really, really enjoyed our chat.
Glenn: I actually interviewed the other Mitch in the business on Saturday, Mitch Malloy!
Mitch: Oh awesome! He played the Whisky on 10th and I was going to go and see him. Funnily enough, I met him in Liverpool because that is where the Z records thing was. I went over there with Jeff Pilson's 'War & Peace' – talk about small worlds, the player for that Brad Lang. This was in 2004 and Mitch and I met then. We're in contact a lot on Facebook still and I was gong to go and see him last week when I was here but at the last minute somebody called me up and said, "Hey, I've got a pass for Jeff Beck & Buddy Guy". You've been trumped by the Beckmeister!
Glenn: The chances of that! A last minute call sort of thing. I bet he was kicking himself!
Mitch: Once again, a good call to make. We toured with Buddy Guy when I was in Edgar's band so it wasn't like I wasn't familiar with how great he would be. I mean, what an insane night of music. Jeff Beck did a 50 years of Jeff Beck. I don't think that's his tour. I think he did it as a special show at the Hollywood Bowl! It's just an awesome place to see a band play.
Glenn: Yeah! I saw David Gilmour there. I think it was the second night he played at the Hollywood Bowl in March – Wow! Probably one of the most incredible shows I have ever seem. I saw The Who in '89 at the NEC in Birmingham and Kiss on the full make-up tour but that was just mind-blowing with the sound and light show. Everything about it was absolutely remarkable. I was speechless.
Mitch: It is a special place to see music, especially when it's made my people like that. I hold Gilmour in that same class of guys who are just in their own echelon. What a magic player!
Glenn: Totally. I've not seen Jeff Beck yet but I'd like to before he retires or goes back under a car for a bit because he's into his mechanics as well and just comes out when he feels like it.
Mitch: I know. He can work on my car anytime. I'll drive it fast! (We laugh).
Glenn: What would you say you are most proud of in your career?
Mitch: The fact that I'm still here and still doing it and playing as hard today as I have. Who knows? Maybe if I'd have made more money in my career, maybe I wouldn't be. I haven't so…. No I'm joking when I say that. I don't know if proud is the word or thankful. I've done this for a long time and I've been fortunate enough to work with some of the greatest musicians on the planet. Whether it be someone like Billy Sheehan or whether it be someone like Edgar Winter or Schenker or Graham Nash. You can't say you are more proud of one than the other. There are just so many cool things to look back on. Once again, my answer like the Ultimate Jam, it probably holds true here, I hope I haven't lived that moment that I'm most proud of yet.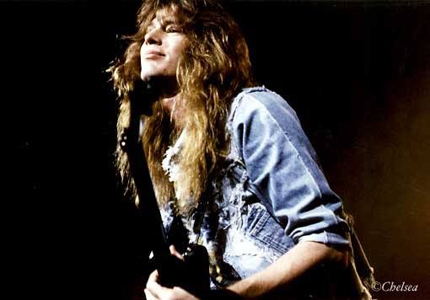 Glenn: Right! That's good!
Mitch: I hope that it's coming. How it is or what it is, what it's gonna be I'm not certain. I'd rather be looking forward to it than looking back on it.
Glenn: Big kudos to Lisa for setting this up for us. It's been such a pleasure. It's been great.
Mitch: Yeah! Definitely.
Glenn: Right Sir, I will let you get off but I've so much enjoyed this of what is coming up to 90 minutes now!
Mitch: Yeah I hope you can afford your phone bill.
Glenn: Funnily enough I have a good deal here with British Telecom.
Mitch: It'a funny too. I mean, you talk about long phone calls. I fell asleep when I was playing with Schenker. I got drunk and called my girlfriend from the hotel room in London and she lived in L.A. and I passed out on the phone and it didn't disconnect. I had a god-awful phone bill. I think it was like £300-£400. I did'nt have any per-diems for that leg of the tour – let's put it that way.
Glenn: (I laugh) Yeah it used to be a nightmare doing international phone interviews like £45 – damn, I only did two interviews! But this works a dream with this deal. Anyway, I'll let you get off buddy but this has been absolutely great.
Mitch: Yeah it's been a pleasure talking with you.
Glenn: That's great. I'll see you in January either at NAMM and/or Ultimate Jam Night as well.
Mitch: Well I'll look forward to that. Until then, you have a great one and again, thanks for everything and I look forward to seeing you in person.
Glenn: Awesome! Thanks Mitch. I've enjoyed it man!
Mitch: Take care.
Glenn: You take care of yourself.
Mitch: You too.
Glenn: Thanks Man! Bye.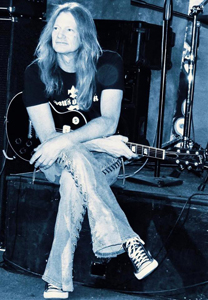 (Photo By OZZFestAmy)
Special thanks to Lisa Morton Woodard for setting up the Interview and of course Mitch himself for the enlightening chat, not to mention the majority of the Photographic images that are featured too.